Trust.
It's everything that matters to interior specialty and general contractors when it comes to choosing an insulation partner. It's why referrals are our #1 source of new business and why we've been in business since 1973.
Expertise
FCIA Member
Owens Corning® Certified Energy Expert®
Proven track-record for tackling complex insulation challenges
Highly knowledgeable in codes, materials, methods, and energy credits
50 years in the construction business
Responsiveness
Assurance in availability of materials
Installation according to your construction schedule
Equipped to handle varying scopes, pricing needs, and timeframes for small- and large-scale projects
Quick return of calls and to the jobsite when called upon
Quality
Experienced crews with best-in-class product, insulation, and safety training
Committed to world-class service and workmanship
With Goley, you can trust that you are always receiving the best total value service and products
Benefit from Goley's 50 Years in the Insulation Business
We opened our door in 1973. A family owned business since the beginning, 2023 marks our golden anniversary. When you hire Goley, you get a half century of experience, know-how, and proven service you can trust.
The Trusted Commercial Construction Insulation Contractor
Goley Insulation offers comprehensive, cost-effective, and streamlined insulation solutions to ensure your project is completed on time and within budget, every time. With 50 years of industry experience, Goley's commercial construction division completes projects of varying scopes, price points, and timeframes while offering industry-leading expertise.
With Goley Insulation, you have one highly trained team covering your commercial building insulation needs from the inside out. In addition to our interior installation services – including penetration, joint, and edge of slab firestopping, acoustical sealants, vapor retarders, thermal insulation, and sound attenuation – we also offer comprehensive exterior insulation solutions for commercial construction, such as continuous insulation systems, curtain wall spandrel insulation, rainscreen systems, and more. From government, healthcare, and military facilities to high-rises, sports arenas, and educational institutions, the Goley commercial insulation team has built a reputation for expertly catering to the unique, complex design requirements of today's commercial architecture.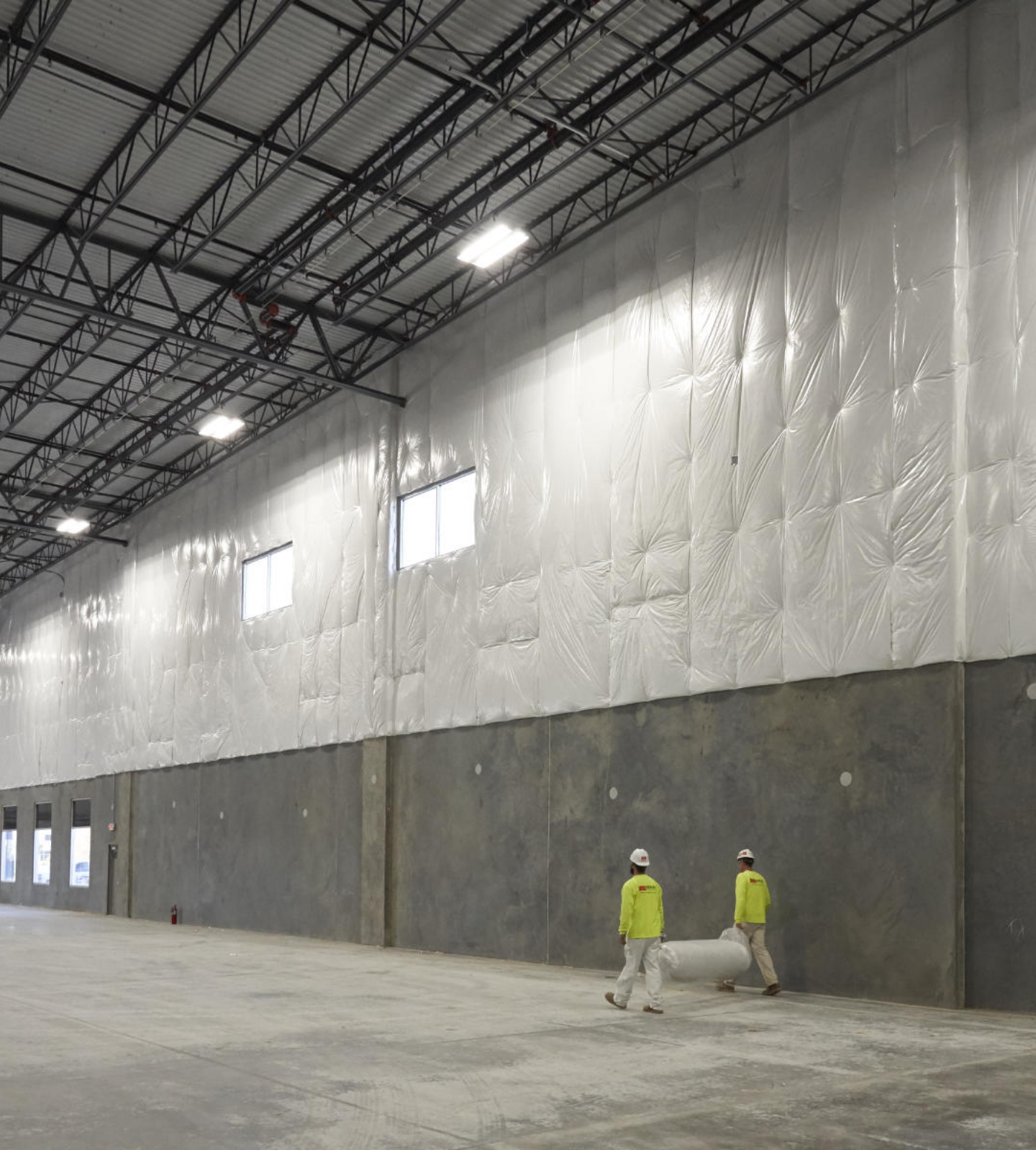 We Proudly Offer
Highly competitive pricing
Mobile, responsive, and reliable crews
Ability to meet/exceed challenging timelines
High-quality workmanship
Building science expertise
Exceptional customer service
Commitment to safety
Professional salespeople and installers with decades of experience
High production rates
Comprehensive product offering
Streamlined processes
---
Project Types
Government/military buildings
High rise buildings
Healthcare/hospitals
Manufacturing
Retail
Schools/educational institutions
Sports facilities
Applications
Thermal insulation
Sound attenuation
Penetration, joint, and edge of slab firestopping
Acoustical sealants
Exterior continuous insulation systems
Curtain wall spandrel insulation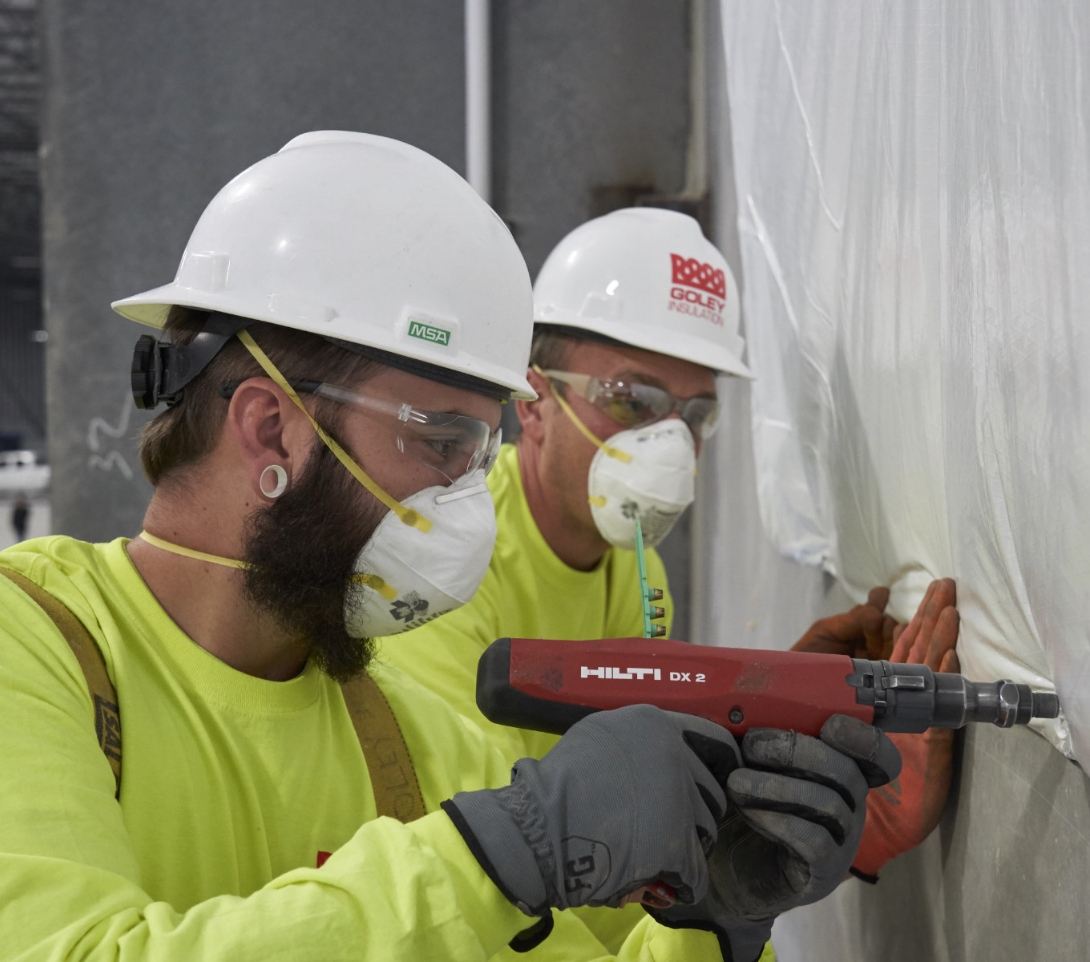 Safety Is Our Priority
Safety is the #1 priority at Goley. It is embedded in our culture. Our employees undergo training from day one and are held accountable for carrying out what they've learned. As part of our comprehensive safety program, we consistently take steps to ensure a secure, efficient working environment. Notably, we:

Are OSHA compliant.
Conduct ongoing trainings.
Execute regular safety checks on jobsites.
Maintain a stellar safety track record, including a low MOD rate.
Have the ability and experience to work at highly regulated and restricted jobs.

Our commitment to safety is unwavering and we believe our customers deserve the peace of mind knowing that proper precautions are in place.
Trained & Certified Commercial Insulation Installers
We have the knowledge, experience, and training necessary to do the job right. We carry all required state and local licenses, our installers undergo extensive safety and training programs, and we're in good standing with the Better Business Bureau. Some of our certifications include:
Firestop Contractors International Association Member
OSHA 10 and OSHA 30
Hilti Basic Firestop Training Certification
Hilti Qualified Operator (Powder Actuated Tools)
Competent Person Scaffold Training
Basis HAZ-Com Training
Boom and Scissor Lift Training Program
Certified Spray Foam Installer
Owens Corning® Certified Energy Expert®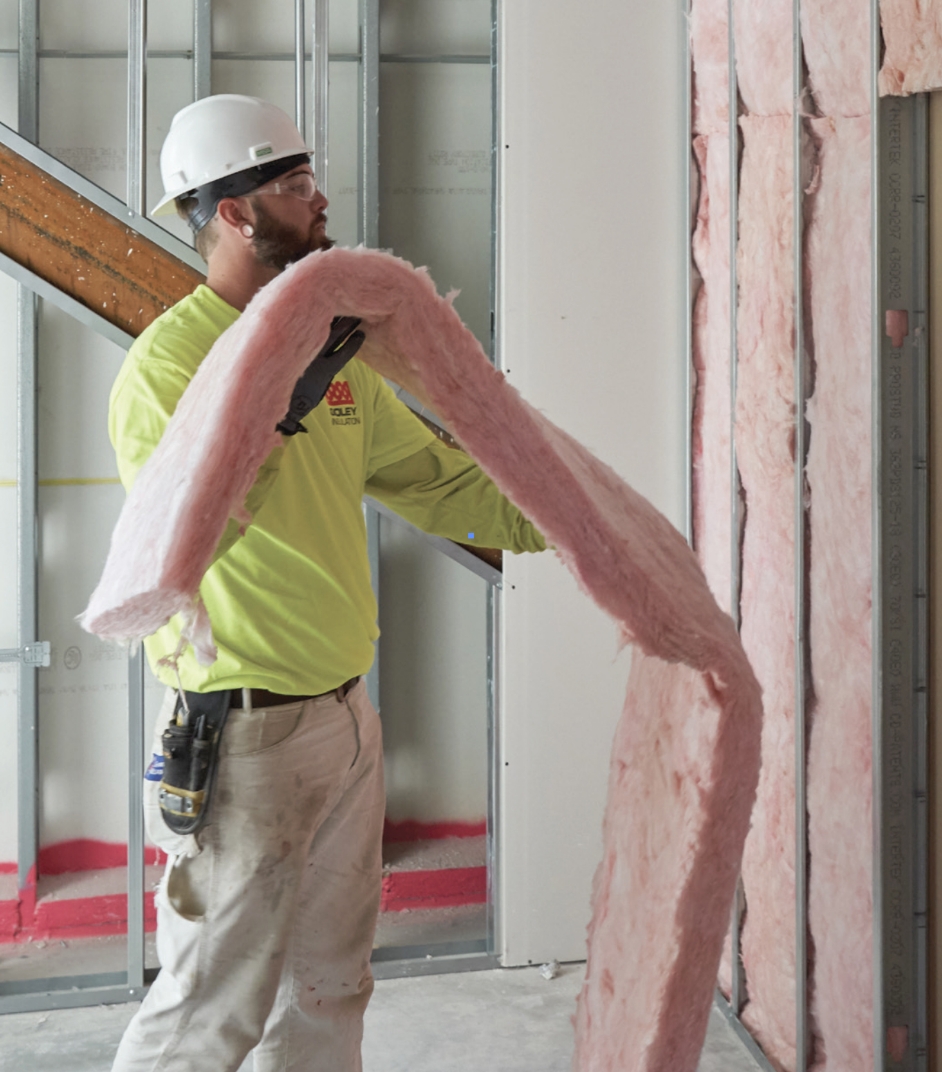 Profiles of our Commercial
Insulation Work
We're proud of the commercial insulation work we've completed. These case studies highlight the comprehensive energy performance consultation and insulation installation services we've provided for a variety of commercial projects.
Have a project? Need a bid? Let's Talk.