Icynene® Spray Foam Insulation
At Goley Insulation, we offer both closed cell and open cell spray foam insulation solutions from Icynene. Closed cell spray foam and open cell spray foam have slightly different characteristics, but both offer unmatched R-value per inch, making your home or business as comfortable, quiet and energy efficient as possible.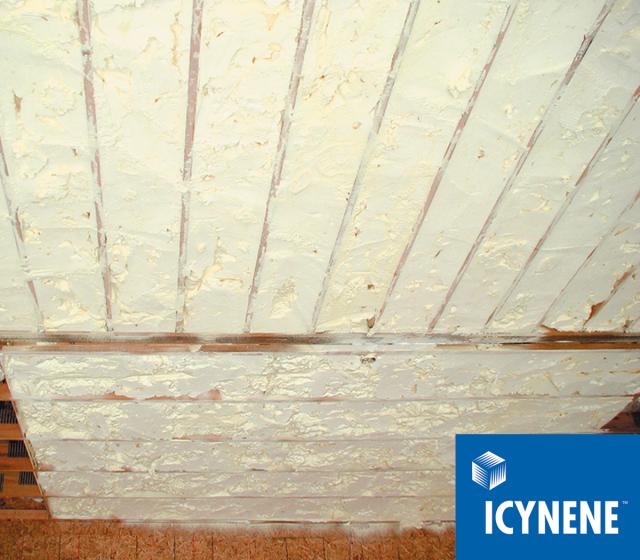 What are the benefits of using Icynene© spray foam insulation?
Air sealing properties create a draft-free environment that offers potential long-term savings on heating and cooling costs.
Seals around all electrical boxes, wires, and plumbing.
Allergens, dust, and mold cannot penetrate the sealed building envelope.
Contributes towards improved indoor air quality.
Stays in place without compromise.
Helps reduce unwanted noise.
The Icynene Spray Foam Advantage
Icynene spray foam insulation outperforms other insulation materials by providing ideal R-value levels and air sealing in one step. Icynene open cell spray foam is best suited for walls, ceilings, attics and floors, expanding to fill every crack and crevice. Closed cell spray foam is ideal for exterior uses, since it can be applied at very low temperatures. Icynene insulation can come in direct contact with electrical wiring, electrical boxes and plumbing, sealing the small places where air leaks.
Review the differences between closed cell and open cell spray foam: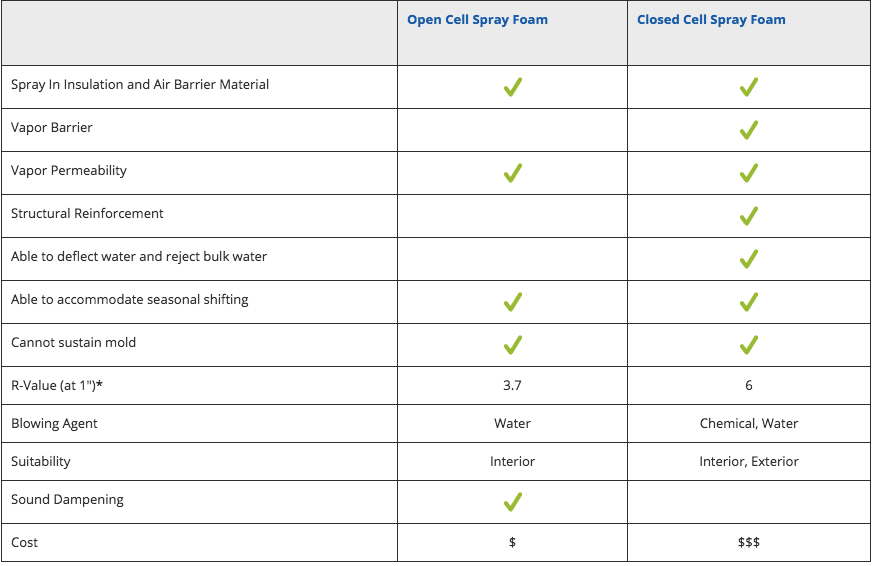 All-Round Comfort
Icynene open-cell spray foam insulation is 100% water-blown. Icynene foam insulation does not produce harmful emissions once the product is cured. As an air barrier, Icynene spray foam helps to minimize the intrusion of outdoor allergens, odors and pollutants and works with proper mechanical ventilation to let occupants control the quality of the air they breathe. Icynene insulation does not support mold and is water vapor permeable, which allows moisture to naturally dissipate from a home rather than becoming trapped.
Creating Quieter Spaces
Icynene's air-sealing qualities have a significant effect on unwanted sound that penetrates a home. This can be a significant advantage for buildings in high-traffic areas. Icynene open-cell insulation can help soundproof interior walls to stop the flow of sound between rooms. It is ideal for places such as entertainment rooms, washrooms and bathrooms.
Contributing to Energy Efficiency
By minimizing random air leakage, which is the source of up to half of a building's energy loss, Icynene insulation delivers heating and cooling savings. Closing the areas where air is leaking out of your home makes a huge difference in a place like St. Louis, which experiences both hot summers and cold winters. You will notice the difference in your energy bill almost immediately. Plus, once installed, Icynene moves with construction as it ages, providing leak protection for the life of the building.